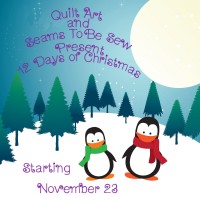 And then their were 8 days of Christmas…
Janeen from Quilt Art and I have teamed up to bring you a special event of giveaways. We've each created 12 patterns to giveaway over the next 8 days. Four days have passed. I hope you didn't miss the tree from yesterday or Janeen's extremely cute penguin. If you missed mine, you can still pick it up in my Payhip or Craftsy shop as it will be available as a single till the end of the year.
Thru November 30th in my Payhip Shop only, All patterns are 25% off.
Please use coupon code: ThankYou2015
All my available patterns are now in this shop, so this is a great time to even pick up patterns you've wanted from Little Treasures.
Kate sent me two new links yesterday for my Row By Row page. If your collecing those rows, we have 3 new patterns to collect.
The DJ Inkers giveaway starts today, everything you need to know is inside the post, click continue reading or the title of the post to enter the giveaway.
Today's pattern is Tree 02..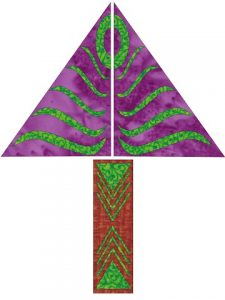 Artwork for this tree by Diddybag
Thru December 1, 2015, DJ Inkers is giving away this cd of their artwork. Trust me, when I say, this cd is full of wonderful clipart for you to enjoy, offers two different fonts also and has many different images. To see what all is in the cd, click the image to go directly to the cd page for the artwork.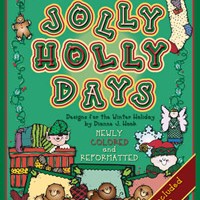 It's time for DJ Inkers's annual 12 Holly Daze celebration!!! Don't
miss these HUGE 24 hour SALES, NEW holiday products… and even DAILY
FREEBIES! The festivities begin Friday, November 27, 2015.
Sign-up for their weekly e-newsletter list to join in the fun!
DJ Inkers is offering a giveaway of the artwork cd above, a value of $39.99. They are asking that you leave an idea of ideas for artwork for 2016. You do need to leave an idea so you won't be disqualified. You may enter this giveaway each day of the giveaway until Dec 2.
DJ Inkers gave those of us who are offering this giveaway for them a copy of the cd to create a project/pattern for you to download.
This is a complete pattern from me, it includes the machine embroidery files, the cutting files and a 14×14 applique block for you to create a cute wallhanging with.
Click the image to download the pattern. I will offer this free thru December 2, 2015
Please leave a comment thanking DJ Inkers also, I couldn't have offered this pattern to you today if it weren't for them.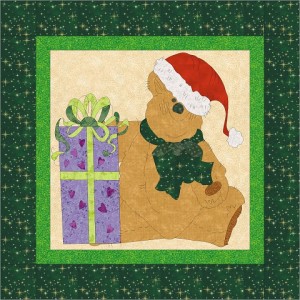 Be Sure you Stop In To See Janeen Today To
No new trees until November 30, 2015.
Be sure to stop in tomorrow and sunday tho to enter the giveaway and we'll see you again monday, when I have another surprise for you besides the daily tree to. 🙂