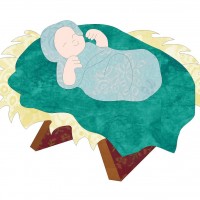 Welcome to the last day of Oh Holy Night. It's been a wonderful experience bringing this series to you each week.
I appreciate your patience during the few weeks I had to delay because of other obligations, but I think it's been worth the wait.
Oh Holy Night is my second BOM Finish since opening my blog in 2013.
Baby Jesus comes in two sizes, the difference is fairly minimal at only a 1-inch sized difference, but I believe you will be able to tell the difference, one is wider, one is taller.
This design will remain free thru November 12, 2015.
Baby Jesus comes with machine embroidery files also.
I am planning a post in a few weeks for ideas to finish your borders, and quilting along with some embellinshing ideas.
I hope to be posting the full pattern later today at my Payhip Shop. I will think about Craftsy for later. I'm worried the pdf is going to be to large for their limitations on pattern uploads.
The full Electric Quilt version is available now here.
All of my patterns are created in Electric Quilt v7 and Bernina Designer Plus v7
Artwork by Angie Wenke
http://digiwebstudio.com
Coming In 2016
Of The World
Block Of The Month