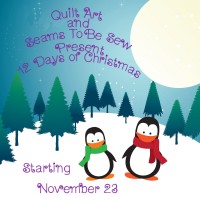 And then their were 8 days of Christmas…
Janeen from Quilt Art and I have teamed up to bring you a special event of giveaways. We've each created 12 patterns to giveaway over the next 8 days. Four days have passed. I hope you didn't miss the tree from yesterday or Janeen's extremely cute penguin. If you missed mine, you can still pick it up in my Payhip or Craftsy shop as it will be available as a single till the end of the year.
Thru November 30th in my Payhip Shop only, All patterns are 25% off.
Please use coupon code: ThankYou2015
All my available patterns are now in this shop, so this is a great time to even pick up patterns you've wanted from Little Treasures.
Kate sent me two new links yesterday for my Row By Row page. If your collecing those rows, we have 3 new patterns to collect.
The DJ Inkers giveaway starts today, everything you need to know is inside the post, click continue reading or the title of the post to enter the giveaway.
Today's pattern is Tree 02..
Continue reading