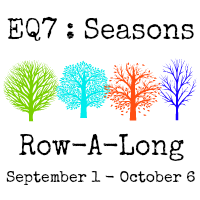 Way back on April 1st, 2015, I had been thinking about how much I missed participating in Blog Hops. I love them, they are so much fun and not just because your creating a project to show off, but because you get to see the ideas everyone else comes up with. I have loved every Blog Hop I participated in. Each one is unique in it's very own way.
I had been admiring Deanna's Quilter's Garden at the time and thinking how much I'd love to do a Row Quilt. So I wrote to Electric Quilt and asked them what they thought of allowing me to organize a Quilt Along with tutorials for Electric Quilt in a row quilt. They were very enthusiastic and granted me permission offering to help in any way they possibly could.
I enlisted the help of Amy Warner at Sew Incredibly Crazy, and Bea at Be A Quilter and they also were very enthusiastic about helping me out with my first quilt/row along. We decided on a theme, Amy created the logo, and we were off. Sew…. I set about inviting everyone I had participated with in a EQ hop prior to that time, but I wanted to go further.. So I went to Electric Quilts site, and started writing those authors who have written patterns they sell their, I visited many sites of people who also enter Club EQ each month and I checked out all those who contribute patterns. In the end, I invited about 35 people to participate and 20 people said yes.
Four of them along with myself even agreed to make an entire quilt out of the rows the designers created.
Darlene at Quiltshop Gal helped me to get some of the wonderful giveaways this Row-Along has to offer and in general gave me a lot of good advice on hosting a hop.
I'd like to take a moment and thank Madam Samm at Sew We Quilt/Stitch, because without her and all her previous bloghops, I never would have even tried doing this. She without knowing it, gave me the courage to try it, she taught me how to participate, and she has always been a great leader, supporter, and is probably one of the most creative people I've ever seen in bloghops. Her overall enthusiasm to encourage others to grow and create is truly one of the biggest reasons I decided to give this a try.
So without further ado.. let's get started.
Each blog you visit during this hop will offer you a .pdf pattern of the row being featured at that blog each day. Some of the designers will also offer Electric Quilts .pj7 format file, which of course allows you to take the file and resize it, change it, and create it in the quilt that you choose to create to. Electric Quilt is amazing software, if you don't own it, I really believe you should consider it a must purchase for quilting. I don't know how people do without it actually.
All giveaways with the exception of the Electric Quilt giveaway on Sept 29, will be done via Rafflecopter. If you don't know how to enter a Rafflecopter giveaway, I've created a tutorial for you here, have a look, then enter.
Each week, we'll have several giveaways at each blog. For the most part each blogger has their own giveaways, but their is also a giveaway by Northcott Fabrics which is generously offering 6-8 yards of fabric per week in 1 yard lengths to 1 lucky recipient who enters the giveaways. This gift is enter at one site, and their is no need to enter at the other sites. You can enter this giveaway only once per week.
Every blogger also has a Fat Quarter Shop gift certificate of $25.00 to giveaway. Unlike the Northcott Fabrics, you can enter at each featured blog of the day to try and win.
All of the bloggers also have various giveaways from books to gift certificates, to thread, and other fun stuff you'd love to have for your everyday quilt projects.
The Flickr giveaway is a random drawing for those who participate and create blocks/rows from the patterns given each week, the ability to pick a Craftsy class of their own choosing and the opportunity to also win a Nancy's Notions $10.00 off your next order gift certificate. You can enter this giveaway every day of the hop, with 1 to 2 unique blocks each day, Filler rows don't count tho, so if you enter one of those, they will be disqualified. You must upload the block/row to Flickr first, then come back and enter the giveaway. All entries will be double checked.
Each giveaway has specific guidelines, if their are restrictions they will be mentioned and you must follow the rules as they are listed on each bloggers site to enter.
Now, here's today's schedule and the giveaways for the day: