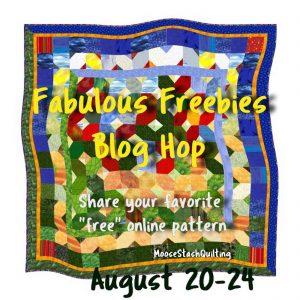 So, today is my day on the Fabulous Freebees blog hop, hosted by my friend Joan at MooseStash Quilting. You'd never guess this was the first hop she's hosted, she's been great at getting it organized and keeping us all apprised of the happenings of the hop. Thanks, Joan for hosting this very fun hop.
Free patterns are really everywhere on the web. I've heard more than once that we are inundated with them. Frankly, who doesn't love a free pattern? I can't tell you I don't, because I do. I've even been known to offer a few free patterns myself every now and again.
I have no problem buying a pattern I like, but free ones are always nice also.
I didn't create one of my own patterns, as I've been wanting to do this one for a while.
Today, my project is along the lines of Christmas once again. If you remember last month I said it was going to be my goal to create something for everyone this year for Christmas and I'm still working on that goal, so here is my project…
Continue reading